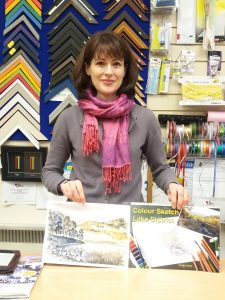 We popped into Cockermouth Art and Craft today, they stock Colour Sketch – Lake District, and Paula showed us her version of Blea Tarn: in watercolour. I like it.
Paula gave us a tip too: use masking tape to stick your sketch sheet to a board if your doing watercolour, it will keep the sheet smoother and when you've finished you've got a nice clean border – good idea!
Colour Sketch is now in 10 outlets:
The Heaton Cooper Studio, Grasmere
Bookends, Keswick
Theatre by the Lake, Keswick
Lingholm Estate, Portinscale
UpFront Gallery, Unthank
Cockermouth Art and Craft Shop, Cockermouth
Ambleside Bookshop, Ambleside
Henry Roberts Bookshop, Ambleside
Henry Roberts Bookshop, Windermere
Rheged, Penrith (coming soon!)
If you have a similar outlet in the Lake District and would like to stock Colour Sketch, please do send me an email on hello@studioirena.co.uk – I'd love to hear from you!
Colour Sketch – Lake District comprises 8 hand-drawn sketches of Lake District landscapes, printed in light grey for you to colour and explore your style as you wish: watercolour, acrylic, pencil, pen and ink….
See examples on my drawing page.